Call Centers and Customer Support
Empower your contact center to provide better customer service
Krista is an Intelligent Automation platform empowering contact and call centers to provide better customer service. Contact centers and agents play a vital role in supporting and retaining customers for sustainability and growth. However, as contact centers shift to cloud technology and work at home cultures, training and product knowledge remain challenging to transfer.
Contact centers inherit complex IT practices that continuously evolve with e-commerce and remote workforces. Contact center leaders acknowledge the complexities and are increasing investments in artificial intelligence, AI, robotic process automation, and RPA to simplify agent tasks.
Krista Conversational Artificial Intelligence simplifies agent tasks for Salesforce.com, Zoho, Zendesk, Freshdesk, and many other CRM and customer support software packages. Krista's domain-specific programming language is modeled as conversations—just like your agents are already having. If you can ask questions, you can create effective automation.
Krista's simple conversational programming method enables non-programmers to author automation to remove menial tasks and increase customer service. Enabling customer support and product representatives with quick access to the right information increases customer satisfaction rates and reduces agent turnover.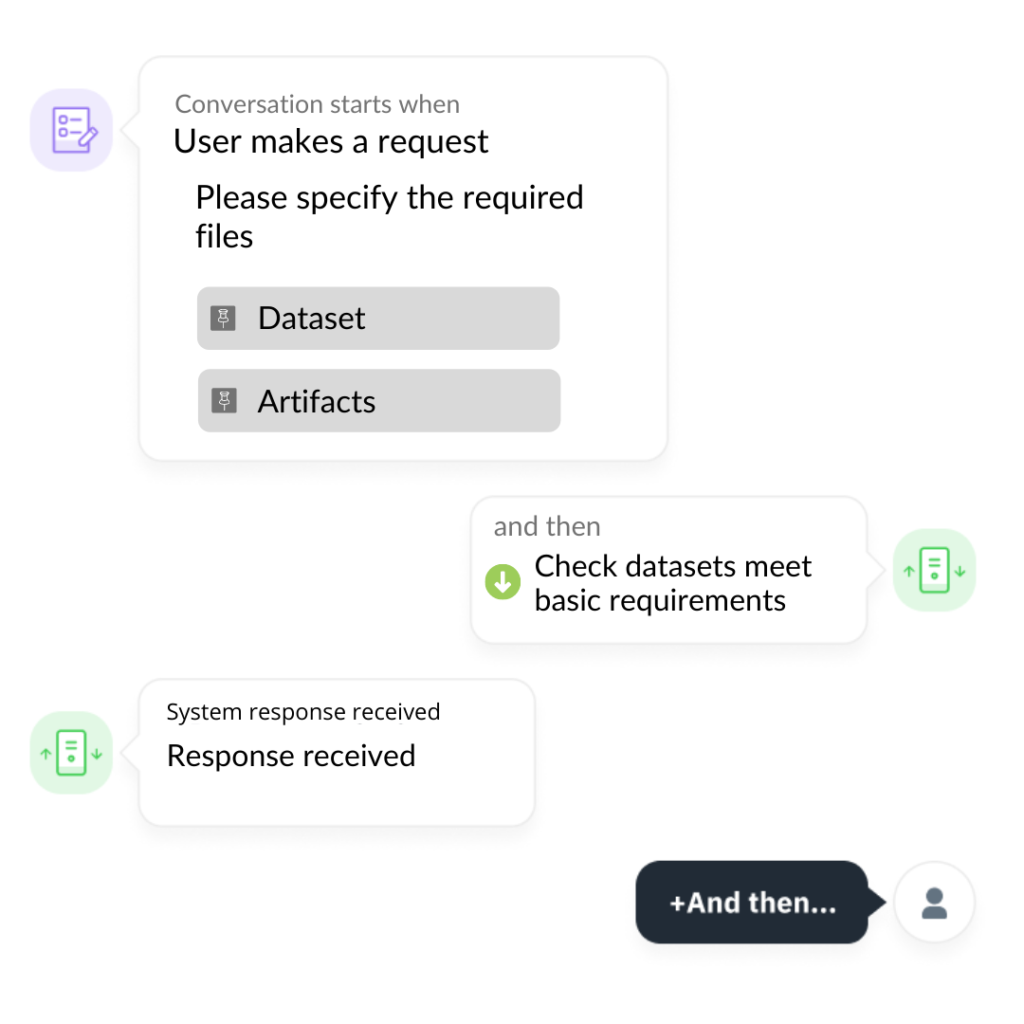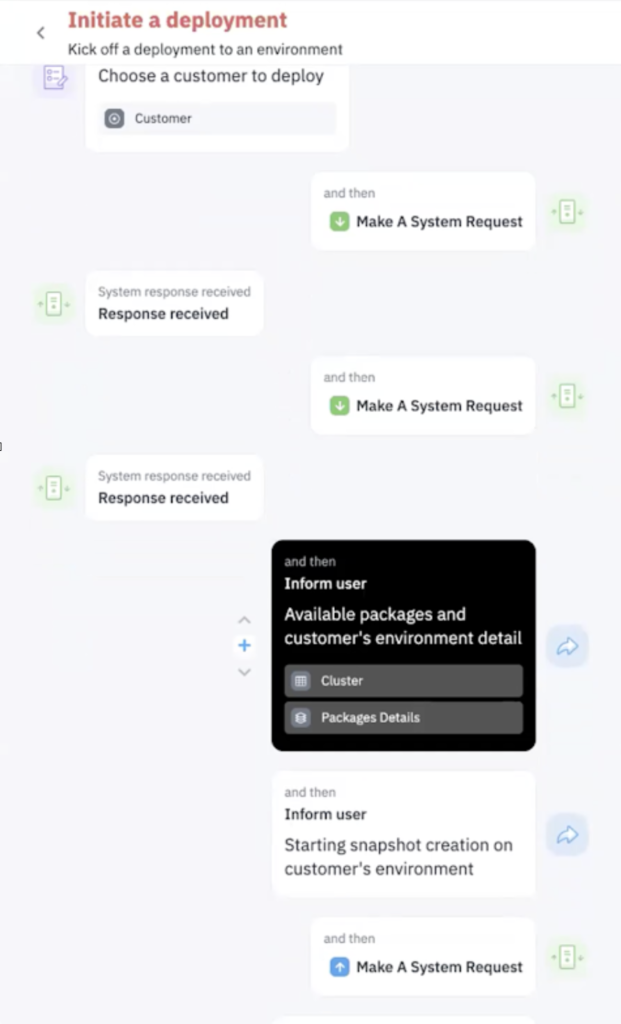 How Krista's CRM Automation Works
Krista reduces the time it takes to find or update important customer or sales information in your helpdesk and CRM apps. She provides a simple interface using a catalog of common conversational workflows to automate and optimize sales and support processes. Users can locate customer information, past orders, product information, cross-selling opportunities, or access data as easy as sending a text message. Krista integrates with your helpdesk and CRM apps to become an integrated conversational platform for your agents. She automatically engages with your people and systems to update information in real-time as conversations happen.  
Krista's ease of use and real-time data updates are essential to managers, too. Managers use the same conversational interface to instantly access call center statistics and trends and prepare real-time updates for executive reports. With faster, smarter information, managers can more effectively manage teams, improve support and communications with other departments, query inventory, and accurately contribute to key performance indicators.
IT Empowers Self-Service with Krista Automation
Krista's simple approach doesn't require expert skills. Business users or analysts can author new automation in the same amount of time it would take to document workflow requirements for your IT department. With this type of self-service, contact centers will no longer have to wait weeks or months for IT to deliver new functionality to fit changing business models. 
Enabling self-service automation saves time, money and increases productivity. The self-service automation platform still needs management and security controls. Your information technology teams will centrally manage system access, controls, data security, access rights, and compliance.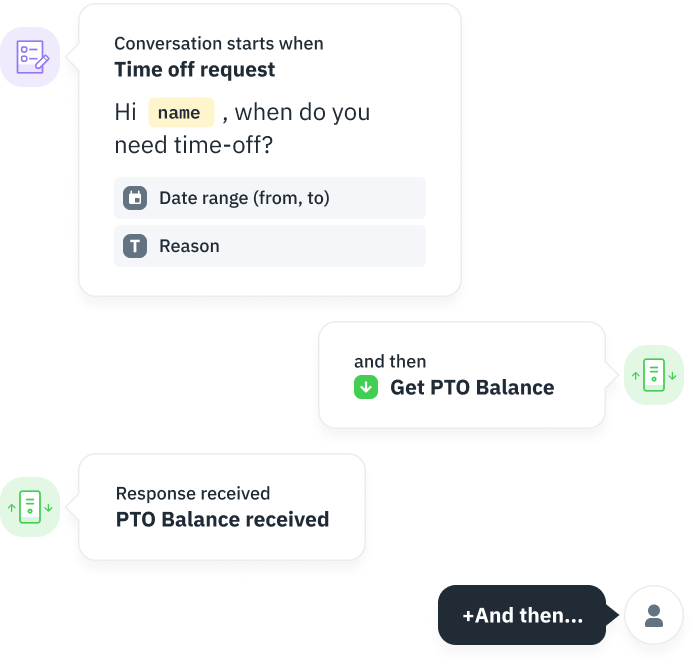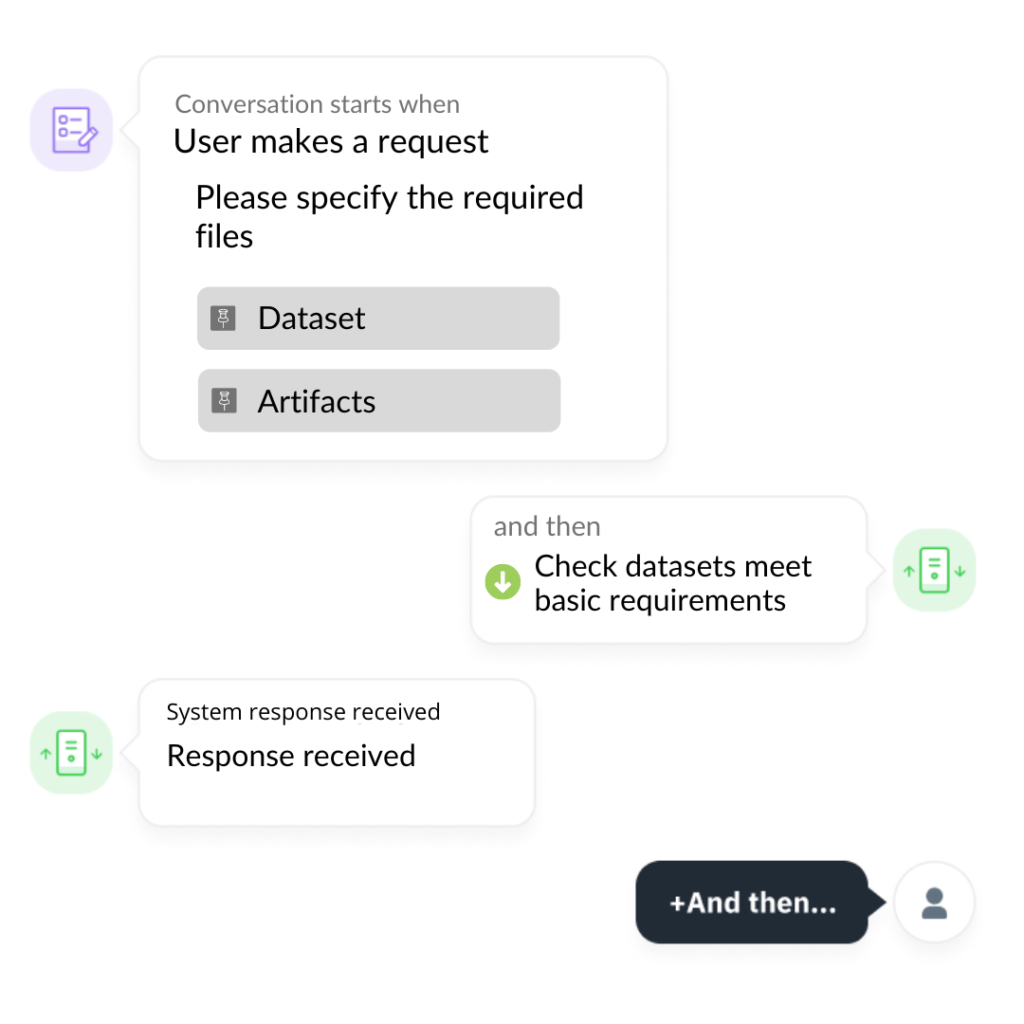 If you can text, you can Krista.
Krista's conversational interface is as easy as texting. Since the automation follows conventional texting or SMS conversations, ramp-up time for agents is almost instant. Krista doesn't require training since it models how your customer support and sales representatives already communicate with customers, peers, or family. Productivity significantly increases with AI conversational automation. Representatives and management can avoid logging into helpdesk and CRM apps, navigating thousands of features and fields to find information. Plus, interacting with automation simultaneously updates information in your apps as conversations happen. Removing data lookup and data entry barriers save time, reduces costs, and significantly improves productivity and business outcomes.  
Krista integrates with the leading sales and marketing automation platforms and extends to others via Krista Extensions.
Other available resources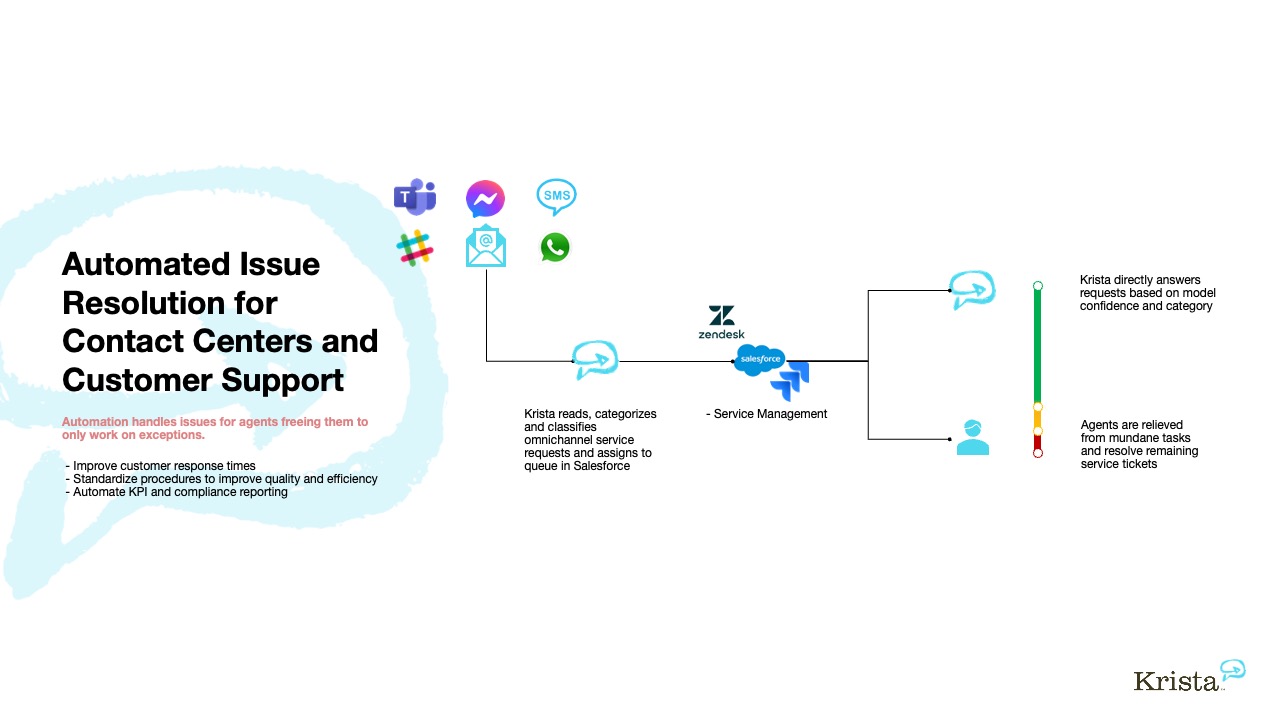 How to use AI to Respond to Customer emails
Krista is an artificial intelligence software that reads and responds to customer service requests. Krista uses natural language understanding (NLU) to read emails and messages to discover the customer's intent.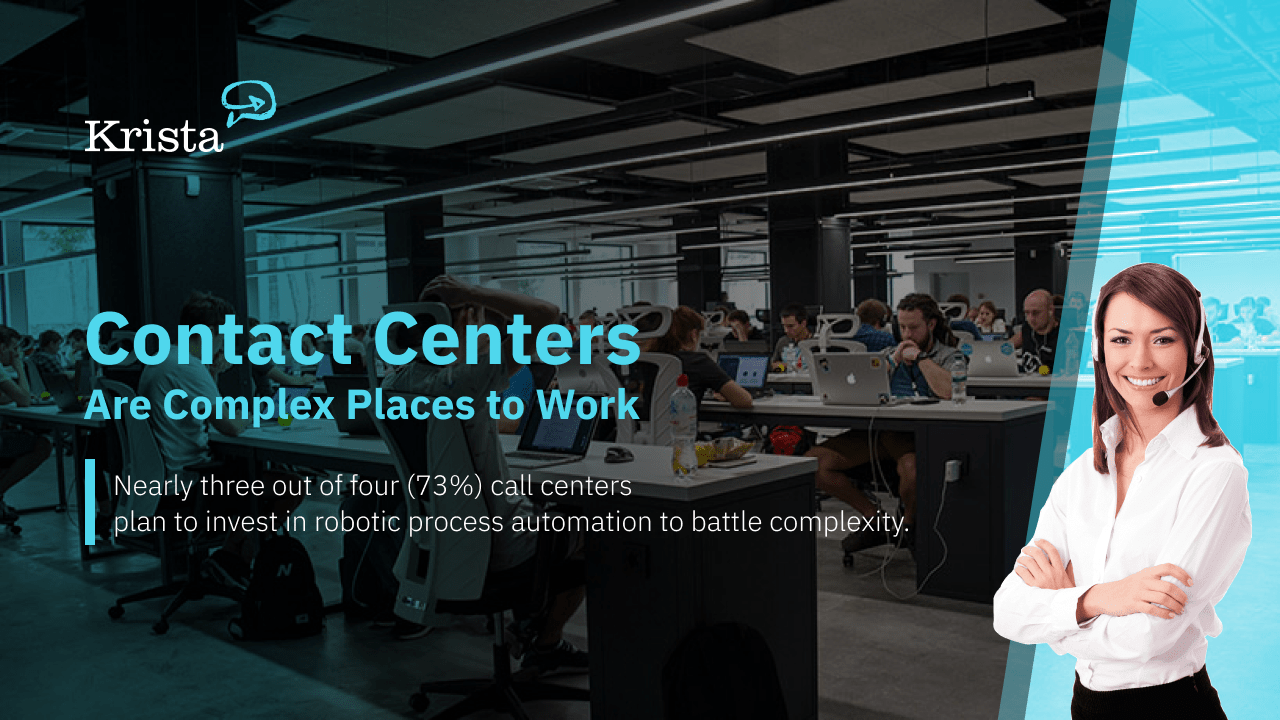 Contact Centers Are Complex Places to Work
Customer contact centers are investing in AI and robotic process automation to combat complexity. [1] The complexity results, in part, from migrating monolithic on-premise customer relationship management systems to cloud-based ones.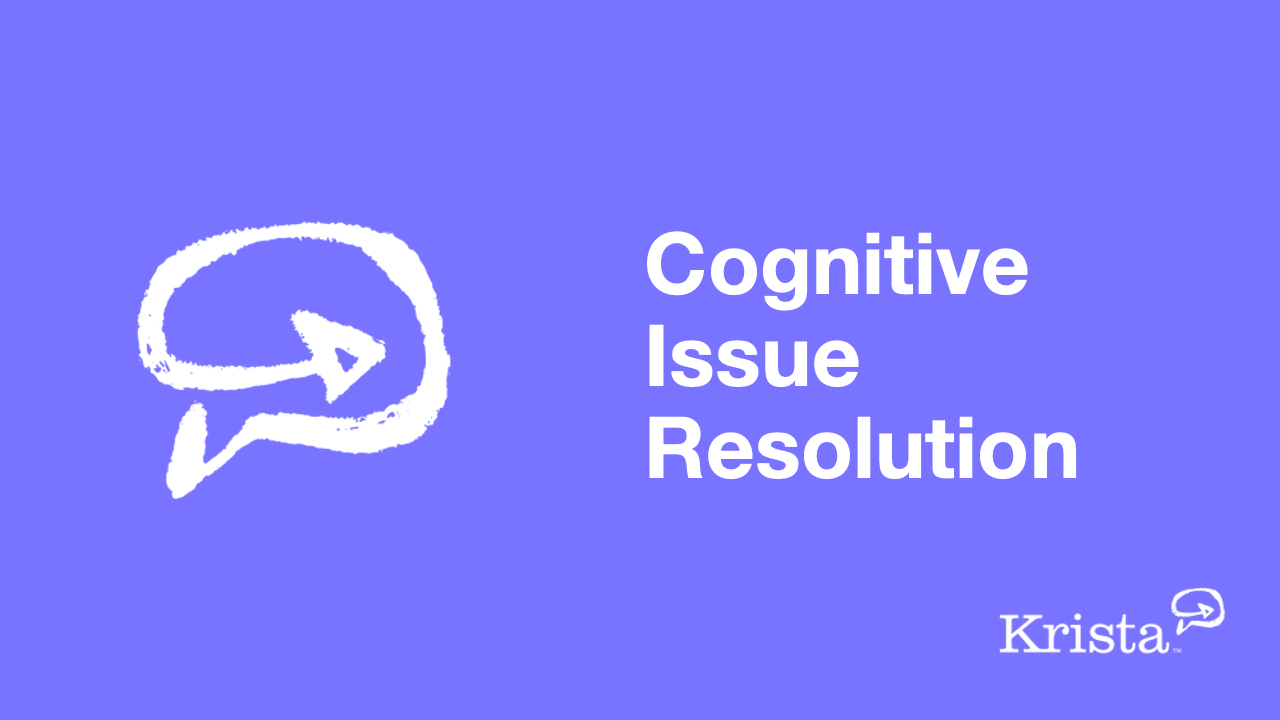 Krista Issue Cognitive Issue Resolution
Krista Intelligent Automation uses machine learning and artificial intelligence to automatically reply to and resolve email queries and issues sent to your company.
Automate and optimize complete business outcomes with AI-led intelligent automation.