The Power of Automation.
The Brains of AI.
A New Era in Process Automation.
Intelligent Automation marries rules-based process automation with artificial intelligence, machine learning, and natural language processing to produce an entirely new era in process automation technology.
Krista makes it human.
What is intelligent automation?
Intelligent Automation (IA) combines artificial intelligence (AI), machine learning (ML), and natural language processing (NLP) with process automation (RPA) to automate complex end-to-end business processes and workflows.
IA augments and enhances RPA by adding intelligent capabilities that automate decision-making, exception handling, and other complex processes that are difficult to automate with traditional RPA technology.
RPA provides value but limits your transformation
Every technology has its pros and cons. RPA is no exception. While it is true that RPA bots save time when performing repetitive tasks, they also have technical limitations.
Unattended bots require restarts and handholding
Unattended RPA bots promise to work on their own, hence the name. However in practice, few processes remain static which means if anything changes—no matter how small- bots require manual restarting/re-programming.
UI is brittle and breaks bots
One of the biggest technical challenges in RPA has to do with user interfaces (UIs). UIs are constantly changing as new features get added and changes are made. These changes generate errors and other problems for robotic processes.
High development and maintenance costs
Automation solutions focused exclusively on RPA are complex to develop and implement, leading many companies into lengthy Software Development Life Cycles (SDLCs). One of the most challenging aspects is maintaining scripts used in bots since every change requires an experienced programmer.
Bots focus on task automation
RPA solutions are designed to automate repetitive tasks, not processes. Tasks are individual actions that make up a process. As a result, RPA falls short when it comes to automating complex business processes that typically involve multiple tasks and require intelligent decision making.
Intelligent Automation is Smarter and More Nimble
Automation has significantly improved throughout the Information Age. Technologies like business process management (BPM), robotic process automation, Low-code app development platforms (LCAP), conversational AI, and other cognitive technologies have gained wide acceptance. However, these technologies still operate in informational silos and lack orchestration for more complex tasks.
The need to orchestrate complex tasks across multiple teams, people, legacy systems, SaaS, and AI, gave rise to intelligent automation. Advancements in machine learning, natural language processing, and artificial intelligence paved the way to personify systems and provide solutions that your people understand.
Intelligent Automation Benefits
Intelligent Automation opens the door to enhanced business process management and provides many benefits across several industries.
Reduces Costs
IA automates processes more efficiently because it handles unstructured data, reduces errors, and constantly learns to optimize your operations.
Increases Efficiency
IA processes millions of documents quickly, spots and resolves issues within each, and makes improvement recommendations.
Improves Customer Experience
Advanced natural language understanding provides personalized customer interactions, leading to best-in-class customer services and satisfaction.
Empowers Employees
IA requires no special technical skills, making it the ideal application for end-users.
Enables Better Decision-Making
Machine learning gathers, organizes, tracks, analyzes, and stores valuable data, enabling business leaders to make better decisions.
Ensures Compliance
IA automates each business process and documents it for compliance, regulatory statutes, industry standards, and best practice requirements.
Krista Intelligent Automation enables digital transformation
Krista was conceived to automate complete business OUTCOMES using a natural language format people already understand. Krista automates end-to-end processes among your people, apps, AND AI. She isn't a collaboration tool, integration tool, or AI builder; she is equally all three.
Krista is AI-led Intelligent Automation
Krista is a nothing-like-code intelligent automation platform to orchestrate your people, apps, and AI so you can optimize your automation journey. Krista builds and integrates machine learning and apps more simply than you can imagine.
Automates End-to-End Business Outcomes
Krista is purpose-built to automate business outcomes, not just back-office tasks. Optimizing outcomes requires predictive analytics spanning departments of people & apps, deploying AI/ML for autonomous decision-making, leveraging your existing task automation, and enabling constant change. By digitizing complete processes, Krista delivers organization-wide, bottom-line impact.
Changes in Krista Take Minutes, Not Months
Krista empowers your people to create and modify automations without programming. Democratizing automation increases business speed and keeps you from waiting for IT resources in the future. Krista dramatically reduces TCO compared to your current automation platform.
Krista is Enterprise Ready
Krista is a modern platform with market-leading enterprise security, scalability, distributed workloads, and event-driven automation despite its unique speed and ease of use. Krista supports every client platform from mobile to desktop, deploys in minutes, and provides the most complete API set of any product of its kind to automate anything anywhere.
Krista is Digital Transformation
Your people are not the reason your digital transformation projects struggle. Krista reduces the number of steps your people must take, eliminates unnecessary steps altogether, and extracts outcomes from industry expertise to intelligent automation.
Intelligent Automation Use Cases
Security Incident Management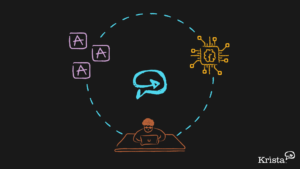 Intelligent Automation enables an overextended security team to protect the organization more efficiently. Krista connects and orchestrates disparate security tools and feeds to centralize communication. Aggregating disparate user interfaces reduces the administration burden and creates time for your security analysts to perform more meaningful work.
Salesforce CRM Automation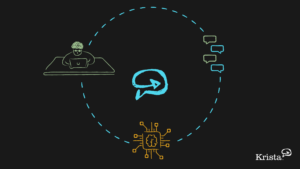 Intelligent automation integrates your helpdesk and CRM apps to become provide intelligent virtual agents for your support and sales personnel. IA removes confusing interfaces and provides automation technologies allowing your agents to better serve customers.
Development & Operations (DevOps)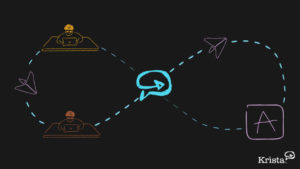 IA connects your existing DevOps automation tools and helps you orchestrate people, processes, and technology. IA enables project sponsors, management, development, security, compliance, and operations teams to remove project delays associated with manual steps.
Document Understanding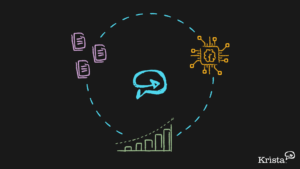 Intelligent automation scans documents, connects to data sources, and uncovers information to automate end-to-end processes involving people and applications to optimize business outcomes and augment human intelligence. The automation extracts attribute document attributes using proprietary machine learning models and NLP for data analysis.
Issue Resolution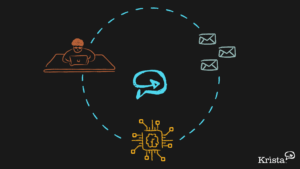 IA can connect with your email servers, internal apps, data sources, ticketing systems, and AI to read attributes from incoming email messages using proprietary ML models and NLP. Automating this process across several business functions can provide intelligent responses to existing processes and automate the next best action based on identified attributes.
Frequently Asked Questions