The Industrial Revolution happened so long ago that it's just another chapter in our long history. Yet, that was a time of massive change for humans and a time that we are mirroring today—ever heard of the fourth Industrial Revolution? Well, you're currently living in the middle of it. Think about the last two decades and how things have evolved. Unlike the first Industrial Revolution, which was all about adopting advanced manufacturing processes, this one is about making people's lives easier by infusing technology–mainly automation–into our daily lives.
Digitalization, AI, Machine Learning, and Intelligent Automation are all products of this massive shift. Although there was a real fear, at the introduction of these technologies, they would replace humans in the workplace; people now realize these tools help us increase efficiency and productivity to make our professional lives easier.
One of these tools is Intelligent Automation. Imagine having a tool that can help you reduce business requests in the IT backlog, increase efficiency and productivity, and improve the employee experience—all with a simple conversation. Does it sound too good to be true? Not anymore.
The era of Conversational RPA:
Conversational RPA isn't just a new buzzword; it's a tool revolutionizing how we work. Conversational RPA enables business users to create simple apps so they don't pile on the backlog for your IT teams. Automation is changing every business sector, and leaders realize automation can help speed business functions so employees can perform more critical tasks. Deloitte reports,
"At the current rate of growth, RPA adoption will become saturated–meaning nearly every company will be using it in some form–in the next five years."
Solving the Backlog Problem
In the 21st century, a business's success depends mainly on how its IT infrastructure is built. As IT infrastructure becomes a differentiator, this increases the workload on the IT sector. This demand on limited capacity increases the number of change requests in the backlog. When your IT teams are working on usability issues instead of business differentiators, it affects your bottom line; if your tech isn't working for you, is it working at all?
One of the most significant contributing factors to automation requests in the backlog is that most of the market's RPA technologies aren't user-friendly. Most of the time, IT resources must assist, repair, and maintain automations. This, in turn, holds businesses back since IT skills are required. Over time, employees become frustrated at the backlog and how it hinders projects.
So, what's the solution?
It Starts with a Simple Conversation
Technology is supposed to help businesses. It should be designed and developed with the main motive to be for the people; it's that simple. In a 'Text me, don't call' society, this has become the standard way of operation for most businesses. Every new task in the business cycle gets started or completed via conversations through emails or Slack channels.
What if we could automate these tasks during the conversation without needing your DevOps teams?
Krista isn't just another conversational RPA; it's tech for everyone. From business owners to salespeople to any other non-tech person, you can automate their tasks using a simple conversation.
Here is an example: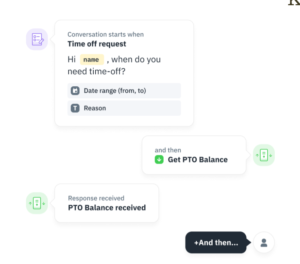 Let's say you need personal leave. Here's all that you need to do:
Want tech that helps take the load off of your IT teams and empowers your people? Let's have a conversation! Contact us to speak with an intelligent automation expert today.