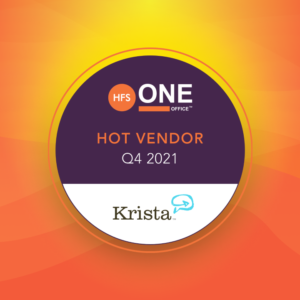 The HFS Research Hot Vendor program annually recognizes the leading new providers of digital services across 25 industries. For 2022, HFS has selected six AI and automation vendors as the hottest of the hot.
Hot Vendors:
Newt Global
Nividous
SingularityAI
Working Solutions
Worksoft
These vendors will be competing in a "Shark Tank" style competition at the HFS Super Summit in New York City. Each vendor will be allowed to pitch their business and value proposition to 150 business leaders across IT, Customer Service, Sales, and Finance organizations. Then after each pitch, HFS Research analysts and panelists get to grill vendor representatives with business-critical questions, and the audience votes for the best pitch.
Hottest of the 2022 HFS OneOffice Hot Vendors
September 14, 2022 at 11:10 AM-12:10 PM US EDT
Click here to see the full agenda and apply to attend.
Moderator:
David Cushman, Practice Leader, HFS
So, who do you think is the hottest of the hot vendors?
Krista
Krista Software develops the AI-led intelligent automation platform, Krista. Krista enables companies to automate complete business processes by elegantly orchestrating people, apps, and AI. Krista uses natural language processing and machine learning to personify systems allowing people to "Ask Krista" for a business outcome.
Newt Global
Newt Global is a unique company in Cloud Technology solutions enabling clients to fast-track application/data modernization and migration initiatives through Platform Led Factory Model thus saving 50%+ in costs and time over the people led factory model.
Nividous
Nividous, a global intelligent automation company, is passionate about enabling organizations to work at their peak efficiency. Nividous realized quite early that automation must be approached holistically and not siloed. This is why from day one they have focused on building a comprehensive business automation platform that harnesses the power of RPA, AI, and BPM. Having these three key pillars natively available in our platform is our key differentiator.
O ya. Well, we at Krista have four pillars so Krista is one pillar better. More pillars!
SingularityAI
Singularity Systems provides SingularityAI®, an Artificial Intelligence platform to help enterprises transform their raw data into actionable insight.
Enterprise leaders use SingularityAI®, to efficiently convert high-volume unstructured content into machine-readable data, enabling real-time decision-making and powering improvements in customer experience and operational agility.
Seems they may have something here. However, they are missing "process improvement".
Working Solutions
Working Solutions seamlessly connects top brands with customer service experts to humanize brand experiences.
Yes, we understand humanization. Krista is technology that understands people.
Worksoft
Worksoft provides Connective Automation for the world's leading global enterprises, automating the full lifecycle of a business process from process intelligence to testing to RPA. Our codeless automation empowers business users and IT to accelerate automation and arms organizations with process data insights to prioritize automation efforts and extend the value into RPA for maximum efficiency and scalability.
Well, we will see about that. See you in the "Tank."