If you think you listen to your customers…
then why do you have 'DoNotReply' email/SMS/social accounts?
Digital Channels
Your customer interactions are more digital than ever. The way customers bank, shop and consume content has changed, and their expectations have risen. You need to meet these new demands with a customer experience that is digital-first and always-on.
Consumers are migrating toward various digital engagement platforms, with a growing proportion of the population not interested in using their phone for voice at all. The future is clearly digital communication.
A digital experience is not only about new technology, but also about how you use it to engage with your customers. It's time to move away from the one-size-fits-all model and tailor each interaction to meet the individual needs of your customers when they need it.
An always-on customer experience is about being available when your customer wants you, not just during business hours. It's about providing a consistent experience across all channels, whether that's through self-service, digital channels, or live agents.
Notifications: One-sided customer interaction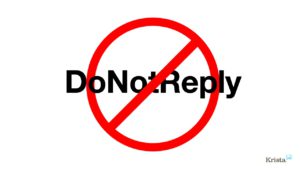 So, why won't you listen to your consumers? Think you do? How many emails a day do you send from "DoNotReply@" or how many text messages went out today that would get a reply to a text "Sorry, no one is reading messages at this account"?
Then you're not listening.
Customers want digital answers 24/7 via the same channel they communicate with friends. It's only in rare cases that they need to reach a human being to resolve an issue or concern. They don't want to be forced to jump through hoops or play telephone tag.
When you send a "DoNotReply" message you are telling the customer, "We want to tell you something but don't care about supporting you responding on this channel."
It's time to start listening to your customers.
I get it. Collaboration amongst your siloed organization is hard. The idea that a contextually feasible response that could involve Logistics, Customer Support, Sales, or Service sounds impossible. Who could possibly handle all that? Let's address that challenge in a moment.
Notifications are Opportunities
One side of your business is generating thousands of desirable yet one-sided notifications, while another part generates messages and advertisements that most customers consider a nuisance. You're attempting to contact them on your terms. Consider what would happen if you flipped it over!
Every outbound communication you send is a chance to engage a client in a discussion. It is a chance to offer them value.
For example, "Your order #123 is going out for delivery today. I can also ship the dress you had in your cart in the same delivery for 20% off – interested?"
Or how about "Your auto-payment was processed. Thanks! By the way, many customers on your 3 year old subscription plan have upgraded to our new Elite Pro plan. What features are most important to you?"
When you communicate with customers to add value it makes them feel that you know them. It shows you value them and they will in turn become loyal to your brand. Delivery notifications, price adjustments on things that interest them, or their favorite service becoming available in their area are just a few examples of how your brand can reach out to your customers and make them feel important.
When customers receive these offers, they are subconsciously primed to want to buy from you. They think, "Oh, I like that they offered me a free upgrade" or "I appreciate that they let me know about a sale on something I was interested in."
It doesn't have to be a big offer – it could be as simple as an article you think they might like or letting them know about an event you think they'd enjoy. The key is to make sure that your communications are focused on the customer and not on your company.
On Your Customer's Terms
To deliver the best possible customer experience, it's best to communicate with them on their preferred channel. Do they want to communicate using email? Fantastic. Do they want WhatsApp? SMS, perhaps? All great. Make sure they can use the methods that are convenient to them and that you are listening on those channels.
It's not just about being able to listen on the channels that your customers prefer, but also responding to them in a timely manner. Customers today expect immediate responses. They are not willing to wait days, hours, or even minutes for a response. If you want to keep them happy, you need to be able to respond quickly and efficiently.
The challenge for many businesses is that customer information often resides in more than one CRM system and these are not always integrated together. This makes it difficult to provide a consistent omnichannel experience.
In order to provide the best possible customer experience, retailers need to invest in technology that will help them to listen and respond to customers across the omnichannel.
Krista: The Digital Engagement Platform
Krista's AI, omnichannel support, simple integration approach, and minutes-not-months change model give you exactly what you need to create compelling customer conversations out of every notification you send.
Krista will scan your systems and look for opportunities to start conversations with clients.
Overstocked on certain items? Krista can read inventory and find your customers most likely to buy so you can offer a discount on those items. And you'll reach them on their preferred channel—email, SMS, WhatsApp, and Messenger.
No more "DoNotReply@."
Make every interaction a two-way conversation just like you do with them in person.
When your consumer replies, that information is contextually pushed back to Krista for further discussion. Perhaps your customer shows a lot of enthusiasm but requires human assistance before completing the transaction. Then, using the full context of what has occurred, Krista connects your contact center staff with your customer inside the ongoing conversation. The conversation in Krista provides your agent with all of the context about the offer, the customer, and omnichannel interactions in one screen along with automation to streamline the entire process.
Krista will drive your customer engagement to an entirely new level. Krista allows you to focus on the bigger picture while she takes care of the details and orchestrates an outstanding automated customer experience.