What is a Standard Operating Procedure (SOP)?
Standard operating procedures (SOPs) are easily accessible documents that provide a clear set of instructions on how a business or service team should conduct health and safety checks. A standard operating procedure document aims to standardize and streamline workflows, improve efficiency and quality, reduce human error, and minimize risk.
Why is a standard operating procedure important?
A standard operating procedure is essential because it ensures that everyone on a team follows the same repeatable process and procedures. Repeatable processes help to avoid mistakes, improve quality control, keep everyone safe, and limit customer complaints.
What is the difference between a process and a standard operating procedure?
A process contains steps to ensure the proper performance of any given task. Generally, processes are documentation of the routine operations, but routine operations are more granular — containing details assigned specific tasks and workflow based on company or market standards. A procedure explains your actions, and a standard operating procedure shows your steps and verifies completion and any other additional details.
How Restaurants are Conducting Digital Transformation
Digital transformation is pivotal to success in the restaurant industry. Digital transformation can help restaurants improve customer satisfaction, operational efficiency, and the bottom line. In a sector where Operating Procedures (SOPs) play such a crucial role in running a tight ship, automating these workflows can be transformative.
What is Conversational AI?
Conversational AI is a technology that enables natural conversation between humans and machines. It allows restaurants to digitize each standard operating procedure and interactional task as an easy-to-follow conversation that employees understand.
By turning SOPs into interactive conversations, employees can follow step-by-step instructions and receive real-time feedback. This helps improve operational efficiency and quality control, while reducing the risk of human error.
Why use Conversational AI to automate Standard Operating Procedures?
Conversational AI can help automate SOPs by providing interfaces using natural language processing (NLP), making it simple for workers to interact with systems and applications. NLP reduces the need for manual input and improves how employees interact with software applications. In addition, conversational AI helps improve information accuracy by validating data before it is entered into a system.
How Conversational AI Benefits Front of House SOPs
By automating SOPs with conversational AI and intelligent automation, restaurants can minimize employee training and provide employees with 24/7 access to instructions on an intuitive real-time platform. This is particularly useful for businesses with global teams or those that experience high employee turnover. It ensures that everyone has the same information at their fingertips. Digitizing each step-by-step process provides each general manager with a high-level overview of each standard operating procedure to help them identify areas for improvement.
Automating your front-of-house SOPs using conversational AI helps improve operations and workplace safety and elevates your dining room experiences. Some of the benefits are:
Reduce training needs
When new team members join, they can quickly and easily be up to speed on the SOPs or changes to procedures using a step-by-step list on a tablet or smartphone.
Ensure compliance standards
By automating each standard operating procedure, you can be sure that everyone follows the same guidelines and step-by-step instructions.
Reduce human error
Automating SOPs with conversational AI can help new employees follow a bulleted list and reduce human error by providing clear and concise instructions that are easy to follow.
Improve efficiency
Automating SOPs can help improve efficiency by reducing the need for employees to search for information or contact a house manager.
Improve quality
Automating SOPs can help improve the quality of work as it ensures that all employees follow the same instructions.
Provide real-time reporting
Conversational AI can help provide real-time reporting on the progress of SOPs, which can help identify issues early and prevent them from becoming more significant problems.
Standard Operating Procedure Examples
Documenting your standard operating procedures is essential to enable the systematization of processes and to meet regulatory requirements. However, documenting and storing each SOP document for easy access can be time-consuming, and difficult to quickly roll out modifications and keep track of different versions.
Conversational AI can help digitize your SOPs, safety guidelines, and other procedures, making them more accessible and easier to manage. For example, you can use conversational AI to:
Automate Recruiting and Hiring
Conversational AI converses with recruits to screen, schedule, and hire your next employee faster to save precious management time.
Reduce Needs for Employee Onboarding and Training
Conversational AI and automated workflows onboard employees via automated checklists to ensure that new hires are properly trained and have all the necessary information to do their job.
Automate Front-of-House Standard Operating Procedures
Conversational AI provides employees with pre-meal checklists to ensure quality processes are followed correctly and on time. Operations can implement changes in real-time vs. sending paper training materials.
Improve Governance, Risk, and Compliance
Conversational AI automates and stores records for Hazard Analysis and Critical Control Point (HACCP) plans.
Remove Human Resource Burdens
Conversational AI enables employees to access and update their personal information, view their work schedule, and request time off.
Improve Customer Experience Management
Conversational AI helps restaurants manage customer experiences by providing virtual assistants to answer questions, take orders, and make reservations.
Provide Real-time Reporting
Automating processes using conversational AI captures data in the cloud, enabling quality and compliance professionals to build automated reports and eliminate manual efforts in cleaning data.
Krista Automates Front of House SOPs
Krista is a Conversational AI automation platform that enables you to orchestrate automated business processes and help you operate a successful restaurant. With Krista, you can provide written instructions and detailed steps in a digital format for your front-of-house, back-of-house, or any operations teams to increase operational efficiency.
How Krista Automates SOPs
Krista automates front of house standard operating procedures by providing clear and concise instructions that are easy to follow. Krista  reduces human error by ensuring all employees follow the same guidelines. Additionally, Krista can help improve efficiency by onboarding new employees and providing them with the necessary information or procedural changes required to do their jobs.
How to get started
Choose a standard operating procedure to automate. A front of house checklist is an excellent place to start.
Recreate the procedure in Krista as a workflow. Krista will guide your employees through each process. It will feel like they are talking to a system as they complete each task.
Processes are easily cloned, edited, and modified to meet regional requirements and restaurant layouts, making workflows easy to follow. Changes are invisible to employees and don't require retraining.
As employees use Krista to verify tasks, Krista captures all of the data in real-time, allowing your operations, quality, and compliance staff to gain real-time visibility into how restaurants perform.
Your compliance staff is no longer required to collect and collate historical HACCP plans to create reports. Risk and compliance can immediately measure effectiveness, reward high performers, and help low performers meet standards.
Start with a standard operating procedure that you would like to automate. This example is converting an existing paper-based SOP document to verify front-of-house equipment temperature checks.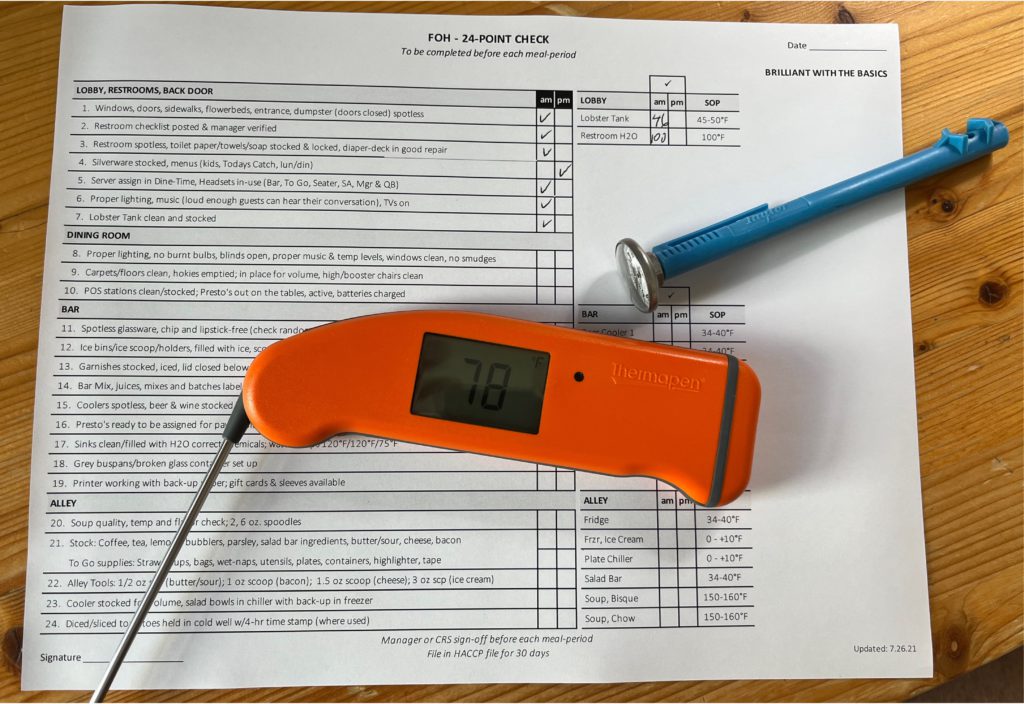 Operations or quality staff can create automated conversations amongst your restaurant, quality management, and compliance staff to capture data. Data is captured in real-time and stored for compliance and audit purposes. The conversational workflow becomes the SOP document and guides staff on which steps to complete. If any changes occur, the workflow guides employees through the changes and doesn't require retraining.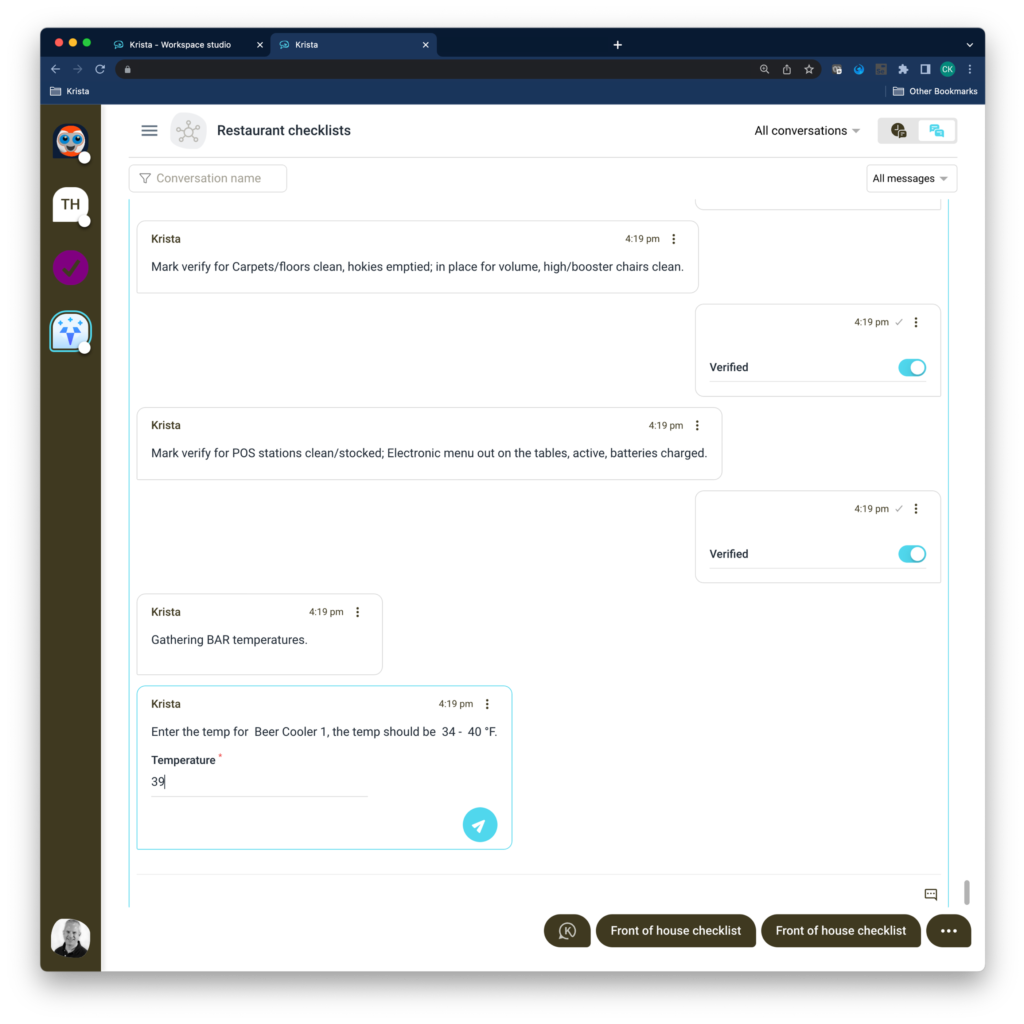 Conversational workflows and processes are simple to edit and don't require software developers or IT resources to change or modify. Simplifying creation and modifications is crucial since there are often regional requirements.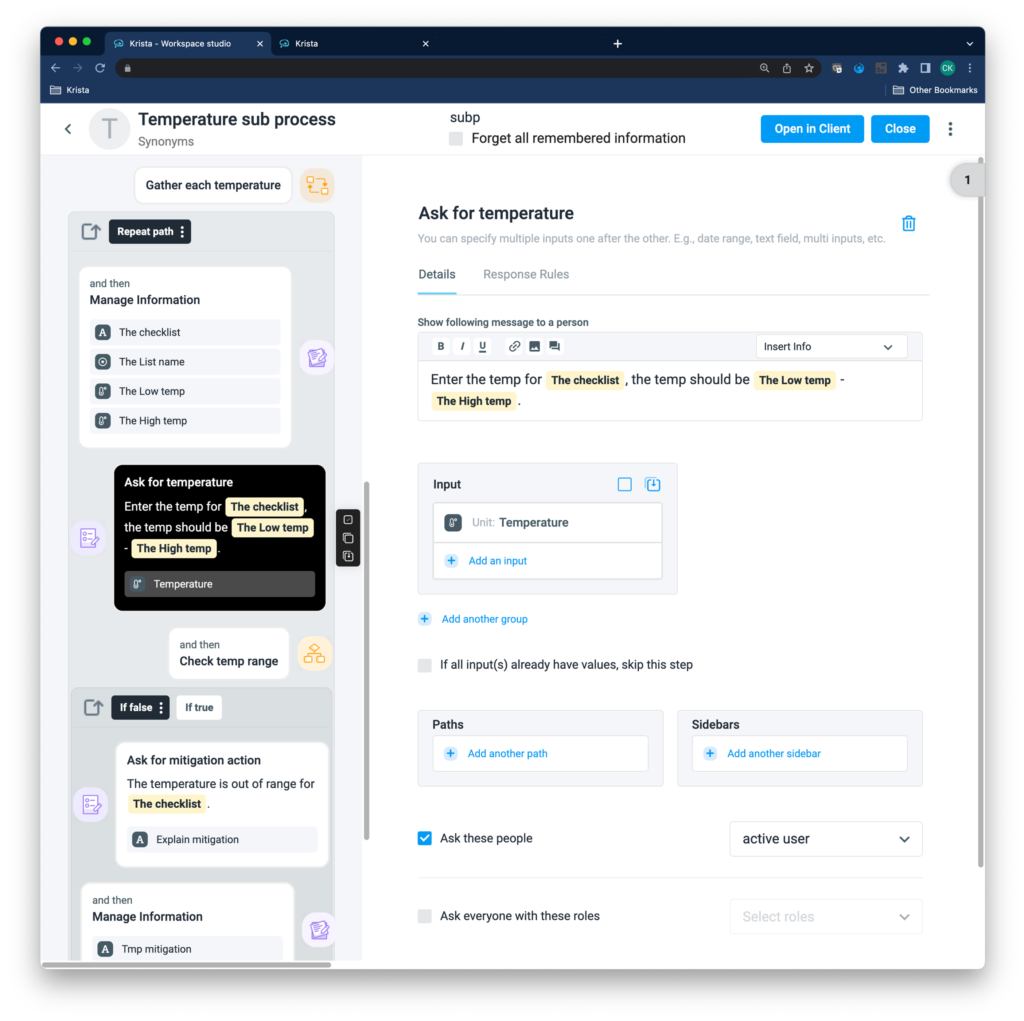 Krista collects verification data as staff interacts with the digital standard operating procedures and provides a corporate total quality manager who would like to monitor compliance with SOPs, safety guidelines, and other procedures to improve quality and reduce risk. Krista provides data on how well employees are following each of the procedures, and overall governance risk and compliance for all procedures in the front, heart, and back of house.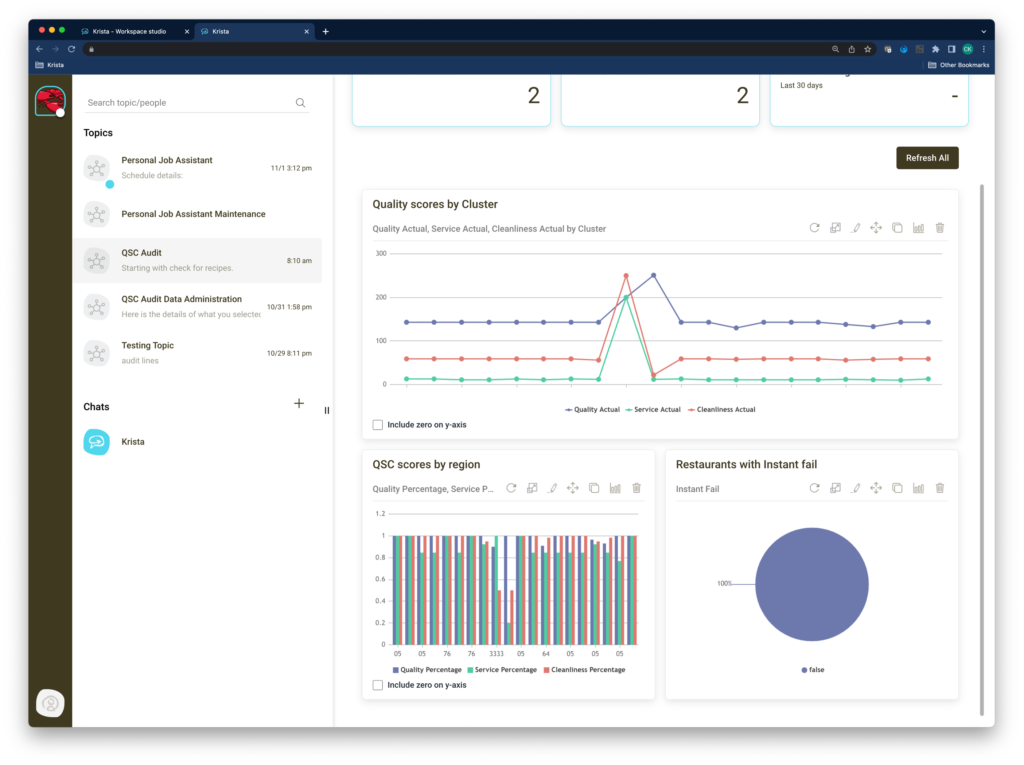 Krista Improves Quality and Compliance
By automating processes with Krista, you can improve quality, compliance, and customer experience while reducing the need for training and onboarding employees. Automation also enables you to manage SOPs more effectively by storing them in the cloud and providing access to them anytime.
If you're looking for a way to improve your restaurant's operations, contact us to automate front-of-house standard operating procedures with Krista. With Krista, you can save time and money while improving quality and compliance.
The front of the building – FOH or Front Office – refers to all the actions or areas a client will experience at the restaurant, including the entrance and dining area.
The back of the house, or BOH refers to all of the support staff and kitchen employees who work behind the scenes to prepare meals and keep the restaurant running smoothly.
The standard operating procedure is a document describing regular operations corresponding to the quality of the investigation. The aim of an SOP is the correct operation and always in the same manner.